SPECIALS
AuthorsReading.com
Our focus is getting new authors, introduced to readers.  We review lots of great new books by super talented writers that are tomorrow's literary giants.


Audio Books Now
Get audiobooks you love for less. Our Club Pricing Plan gives your 50% off your first audiobook each month and up to 40% off everything else.
We offer a large selection of bestselling and classic titles.


Bang Good
Banggood has partnerships with many professional international shipping companies to offer fast and convenient door to door delivery to more than 200 countries.


Book Lender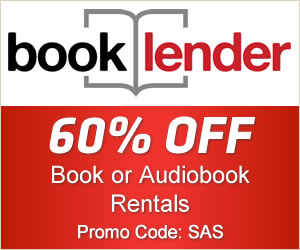 Save up to 60% off your favorite audio book rentals!


VJ Books

We carry books signed by the authors!



eBooks.com
Launched in 2000, eBooks.com is a popular ebook retailer with a reputation for innovation, integrity and independence.
We sell ebooks direct to consumers around the world, with five local sales portals in the US, Canada, UK, Europe and Australia.


Amazing Fables
A child's mind is amazing when it isn't constrained. Give a boy a sword, and he'll believe he is on an adventure to save a magical kingdom. Give a girl a stick and she could be casting spells with a magic wand. This idea of personalization underpins every story we have worked on to spark imagination and confidence to explore new possibilities.

BetterWorld.com
Better World Books uses the power of business to change the world. We collect and sell books online to donate books and fund literacy initiatives worldwide.
With more than 8 million new and used titles in stock, we're a self-sustaining, triple-bottom-line company that creates social,
economic and environmental value for all our stakeholders.


Tech For Less
We are not your typical store. We only stock products we can sell at huge discounts from the world's top brand names. Our products are constantly
selling out because we can't keep up with demand at such low prices. If you see something you like, buy it now before it is gone.


---